Strengthening Community Resilience to Climate-Induced Disasters in the Dili to Ainaro Road Development Corridor
Project background
Hydro-meteorological hazards, including flash floods, destructive winds and landslides are the country's most common and damaging natural phenomena, threatening vital infrastructure and posing serious risks to local communities and their livelihoods. Incorporating the potential for climate induced disasters when designing infrastructure is a key component of disaster risk management (DRM). (Lee versaun Tetum iha ne'e)
The Strengthening Community Resilience to Climate Induced Natural Disasters in the Dili to Ainaro Road Development Corridor (DARDC) project aims to protect critical economic infrastructure from climate induced natural hazards through improved policies, strengthened local DRM institutions and investments in risk reduction measures within the corridor, with the objective of sustaining human development. In partnership with the World Bank, the project works closely with line ministries especially the Ministry of Social Solidarity (MSS) and the Ministry of Agriculture and Fisheries (MAF), municipal authorities and local communities.
Project activities
Conduct DRM trainings in all municipalities in Timor-Leste.
Complete disaster risk reduction (DRR)/DRM/climate change adaptation (CCA) training manual.
Launch disaster loss and damage online database.
Develop "Capacity Development Strategy for Gender Mainstreaming in Disaster Risk Reduction and Climate Change Adaptation"
Conduct 8 trainings on Fukuoka seed ball plantation technique for more than 100 farmers and MAF staff to promote organic cultivation in the 4 focused municipalities of Aileu, Ainaro, Manufahi and Ermera.
Complete "Capacity Assessment and Development of Capacity Building Strategy and Action Plan of DRM Stakeholders in Timor-Leste".
Conduct community vulnerability capacity assessment in 25 villages across the corridor to support development of DRM programmes and community action plans.
Complete Geographic Information System (GIS) mapping of 26 sub-watersheds.
Implement top-up grants mechanism to support the construction and maintenance of resilient water supply and irrigation infrastructures. In 2017, US$ 200,000 was transferred to the Ministry of State Administration (MSA) to support 7 projects. An additional 4 projects are proposed for the second phase in 2018.
Working with MAF to promote community based reforestation and infrastructures along the road to reduce the vulnerability of local communities. As of January 2018, 2 nursery sites have been established, 16 hectares planted, and 12 dew ponds and hundreds of check dams constructed along the corridor.
Building capacity of national technical staff through training on advanced monitoring systems GIS, remote sensing and drones.
Procuring and installing necessary early warning equipment according to the designed early warning system based on the risks assessment in the project areas, operated by 3 focal points.
Developing standards for watershed management and land use planning.
Producing hazard risk maps for the focused 4 municipalities and 49 villages.
Communicating disaster preparedness and response with stakeholders and communities
Supporting development of bamboo industry and plantation in Timor-Leste, including organization of an official study tour to China in October 2017.
Working with MAHARU (local NGO) to implement various activities including reforestation, community mobilization and awareness campaigns in Ainaro Municipality.
Project results
Enhance the knowledge and understanding of policy makers, planners and technical staff on the local drivers of climate induced natural disasters faced by the Dili-Ainaro corridor and resulting impact on economic infrastructure.
Develop capacity of national and sub-national DRM institutions to assess, plan, budget and deliver investments in climate change related disaster prevention, and mainstream DRM in national, sub-national and sectoral strategies.
Implement community driven investments to reduce climate change and disaster induced losses to critical infrastructure assets and the wider economy.
Demonstrate effective risk management practices to make assets and livelihoods more disaster and climate resilient in the Dili-Ainaro corridor, directly benefitting more than 140,000 people.
Status:
Ongoing
Project start date:
June 2014
Estimated end date:
June 2019
Focus area:
risk reduction
Project office:
Implementing partner:
United Nations Development Programme
Funding Support by
Donor name
Global Environment Fund Truste
Amount contributed
$6,001,861
Delivery in previous fiscal year
2018 $1,234,673
2017 $1,498,941
2016 $1,036,279
2015 $544,667
2014 $70,561
Explore more
Timor-Leste is at risk from natural disasters, with floods, fire, landslides and strong winds most…
UNDP and National Disaster Management Directorate (NDMD) of the Ministry of Social Solidarity (MSS)…
The Ministry of Social Solidarity and the United Nations Development Programme today, signed a new…
Following UNDP training and support, local farmers in Aileu, Ermera, Ainaro and Manufahi…
Access to clean water is a significant problem faced by communities living in rural areas. The…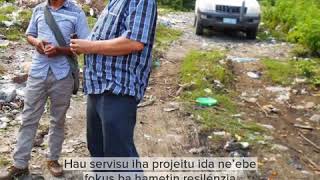 The Dili-Ainaro Corridor project seeks to reduce the risks that Timor-Leste faces from natural…
Agroforestry is a system of farming that combines trees with agricultural crops. It increases…
A participatory community-based vulnerability assessment (CVA) and development of climate risk…
It is critical that Disaster Risk Management (DRM) interventions are gender responsive and…
The main objective of the project is to protect critical economic infrastructure for sustained human…
Ahi-han rai ne'e perigu ida ne'ebé identifika ona iha Koridor Estrada Dili-Ainaro. Ida ne'e…
Métodu kuda fini bola dezenvolve husi agrikultor no filosofu ida naran Masanobu Fukuoka iha Japaun…
The Dili to Ainaro Road Development Corridor (DARDC) comprises a joint investment by the Government…