Youth Action for SDGs
Project background
Timor-Leste has made great progress in peace and development since it gained independence 15 years ago. However its economy is highly dependent on oil revenues. Moreover, the country is also facing a rapid young population growth with high unemployment rate. Therefore, economic diversification through private sector development is one of the country's priority areas to tackle unemployment and transition away from the oil-dependent economy.
The Youth Action for SDGs project aims to create an enabling environment for youth innovation and entrepreneurship development as well as youth voices and engagement. Thus contributing to increase employment rate and economic diversification.
Project activities
Establish a one stop shop Youth Entrepreneurship and Innovation Hub with the following characteristics:
A sustained effort: As many initiatives are isolated, incubation and technical assistance will be an ongoing effort
Coordination: Rather than duplicate, UNDP convenes public and private sector together with development partners focusing on ongoing initiatives for the benefit of youth
Integration: KJFL focuses on providing support throughout the value chain for entrepreneurship: from ideas to financing, including legal and technical assistance
Knowledge Hub: L

everaging

the

UNDP Global Knowledge and Partnership network to benefit Timor-Leste

. For example, working with Microsoft and the Asia School of Business-MIT
Innovation: Finding simple local and innovative solutions to address market needs and opportunities by using ICT. A jobs portal and other applications will be launched.
Establish partnerships with key public and private institutions as well as development partners to provide an integrated empowerment services to youth from business ideas development to start-ups as well as to build youth leadership and enhanced their engagement in development process.
Conduct regular training on two pillars: Youth Opportunities and Youth Voices mainly training, mentoring, incubation as well as technical and advisory support on topics related to innovation and entrepreneurship as well as research and leadership for development.
Establish an integrated online market place (e-market) to connect supply to demand of jobs, products and services mainly in the agriculture and tourism sector
Project results
A one stop shop Youth Entrepreneurship and Innovation Hub named Knua Juventude Fila-Liman was established and inaugurated by H.E. Dr. Rui Maria de Araujo, the Prime Minister of the VI Constitutional Government. The hub activities are based on 2 pillars: Youth Opportunities and Youth Voices. It takes ideas to business plan/proposals, connecting youth in an integrated manner to facilitate:
Entrepreneurship development: UNDP and IADE (Government agency for enterprise development providing Incubation and technical assistance)
Vocational training & employment opportunities: Secretary of State for Youth and Labour (Government agency)
Business registration and legal advice: SERVE provides business registration support.
Financing: BNCTL provides funding support through the Prime Minister entrepreneurship development loan guarantee scheme (developed by UNDP 2015-2016).
Internet access and video-conferencing: Telemor provides free internet access enabling youth to learn and research online.
More than 20 activities benefitting around 1,500 people, out of which 19 youth are now entrepreneurs, 8 youth are now employed, and others have gained knowledge and skills related to innovation and business development.
The first ever integrated E-Market platform www.filaliman.tl connecting supply to demand of jobs as well as product and services has been established.
Explore more
On 14 August 2018, UN Agencies in co-operation with the Secretary of State for Youth and Sport…
On 03 August 2018, SDG Ambassador for Climate Change and Ocean Jake Lasi presented an inspirational…
Timor-Leste is a half-island brimming with stunning mountains and idyllic beaches. Kept secret from…
In June UNDP held a social business camp in Ermera to support aspiring entrepreneurs to develop…
During May, UNDP held a three-day social business camp for start-ups in Likisa to provide an…
Last week 65 youth participants – including 17 from the municipalities – attended an exciting…
In recent weeks many young entrepreneurs have met with businesses in Dili. Through the Business…
Secretary of Manatuto Municipality Administrator Mr. Agripinho da Costa and National Director for…
On 23 February 2018 Knua Juventude Fila-Liman (KJFL) launched the filaliman.tl e-market. The…
Today service providers, youth, social innovators and government and development partners gathered…
On 26 January 2018 Knua Juventude Fila-Liman (KJFL) visited the Bee Lafaek project site in Kampung…
On 13-15 December 2017, in collaboration with Secretary of State for Youth and Labor, UNDP organised…
On 11 December, UNDP Knua Juventude Fila-Liman (KJFL) conducted a one-day training on youth training…
"Knua Juventude Fila-Liman (KJFL) is a unique place to help young people learn and discover their…
'I want to work with nature and the communities who we depend on for the products. I want to supply…
'The skills they teach you at the Knua Juventude Fila-Liman Centre, are things beyond the class…
'I am willing to use my skills and help the youth to create their own business because that's what…
In 2016, Gabriel returned to Timor-Leste after studying horticulture in Queensland, Australia.…
'Because I am lucky enough, I am in a position to help others. I will support everyone I can to…
'Through Knua I have learnt how to manage my time, and how to effectively work in a team' says…
Fruit and vegetable chips are increasingly popular in Timor-Leste. However, it is common that these…
"Most of the rice we consume in Timor-Leste is imported. This makes it expensive for local families…
Before Knua, I didn't enjoy being a trainer or teaching people. I didn't like public speaking. Now I…
'All of the farmers in Atsabe sub-district use traditional methods to cultivate coffee. Although…
Leonia is a 29-year-old nutrition consultant who recently came back to Dili two and a half years ago…
Nuno Ridenio is a 30-year-old entrepreneur. He was among the youth who had the opportunity to work…
In Timor-Leste, 74% of the population are under the age of 35, most of which are neither in…
Rosalia Elvi Merdiyana Jose Trindade is a 22-year-old entrepreneur. In 2017, Elvi attended a Social…
In Timor-Leste, there are many farming groups who grow various crops but producing quality and high…
'We want to provide local and sustainable water to many families around Dili' says Fernando de Sousa…
Silvia is a 26-year-old junior professional business trainer at the Knua Juventude Fila-Liman…
'Ever since I was a little kid, I had to walk 7km to get rice and sugar. People in my community…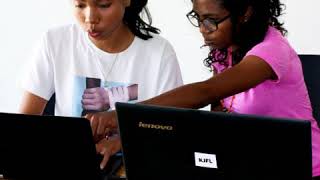 A few months ago, I was selected to participate in the Peace Boat Ocean and Climate Youth Ambassador…
Knua Juventude Fila-Liman (KJFL) is a one-stop centre for youth innovation, employment and…
Knua Juventude Fila-Liman (KJFL) is a one-stop centre for youth innovation, employment and…
The first-ever Makerfest Workshop held in Dili, from 11 to 13 October 2017, attended by 40 Students.