Our intervention
UNDP's support for democratic governance in Timor-Leste is aimed at enhancing the effectiveness and integrity of the governance institutions, systems and processes through policy support and capacity development.
In late 2012, the UN's peacekeeping mission in Timor-Leste completed and all international UN Police (UNPOL) left the country. The Strengthening the National Police Capacity in Timor-Leste program supports management and administrative systems and tools within the National Police (PNTL) and complements the support by other partners. It aims to build on PNTL skills in management and administration, strategic planning, human resources, procurement and asset management, fleet management, public relations and IT database management.
UNDP has been supporting the justice system in Timor-Leste since 2003, working with all the justice institutions through the "Justice System Programme" (JSP). UNDP support to the justice sector has contributed to the establishment of the Legal Training Centre as the main institution for training of judicial officials. The fourth phase of the programme was launched in January 2014 and focuses on ensuring that gains to date are fully institutionalized and that assistance to the institutions moves from achieving daily tasks to engaging more with systems and processes.
The Leveraging Electoral Assistance for Regionalized Nation-Building (LEARN), funded by the Government of Japan and Korea, builds on the achievements of previous UNDP electoral assistance projects and aims to provide technical assistance to Timorese Electoral Management Bodies (EMBs) throughout the entire electoral cycle, with a strong focus on civic and voter education, considering support already provided to Suco (village), Presidential and Parliamentary elections. LEARN project supports a variety of actors, including Electoral Management Bodies (EMBs), civil society organizations and the media.
Drawing on its strengths in the two complementary areas of good governance and sustainable, innovative development, UNDP is supporting the Government of Timor-Leste to establish and operationalize the Oecussi Regional Administration and Zone for Social Market Economy (ZEESM), a special economic zone designed to spur sustainable economic growth, create jobs and enable social development through provision of technical support for the development and implementation of the institutional framework, ensuring a mechanism for delivering and overseeing public policy, improving public services, and enabling regional administration through appropriate legal, policy and institutional frameworks.
The Sub-National Governance and Development Programme (SNGDP) was launched by the Government of Timor-Leste in 2014 to implement decentralization policy, as well as consolidate and strengthen Timor-Leste's national investment planning, financing and implementation processes with the objective of achieving poverty reduction and local development. Through SNGDP the Government of Timor-Leste and UNDP provide support to implementation of the Strategic Development Plan of Timor-Leste 2011-2030, providing essential capacity development and technical assistance for infrastructure planning and project implementation in social and economic sectors.
Explore more
During September the "PNTL Strengthening Governance and Service Delivery" project conducted three…
On 17-19 September 2018 the "PNTL Strengthening Governance and Service Delivery" project delivered…
During July, August and September 2018, UNDP and a team from the National Police of Timor–Leste…
On 12 and 13 September 2018 the "PNTL – Strengthening Governance and Service Delivery" project…
On 18 July a project management board meeting for the "PNTL – Strengthening Governance and Service…
Outside the legal framework, women still face many challenges in attaining political equality in…
In September 2017 UNDP organized a gender driving training for National Police of Timor-Leste (PNTL)…
Trust is considered an important factor in establishing positive relationships between the police…
Dili, 15 April 2016 – Community Conflict between people in Uma Wain Leten, Viqueque in December 2015…
Dili, 13-15 October 2015, As part of efforts to strengthen peace and social cohesion in Timor-Leste,…
Strength, force, security, weapons: words that readily come to the minds of most people when asked…
Twelve staff from the Public Prosecution Service and the Public Defender's Office participated in a…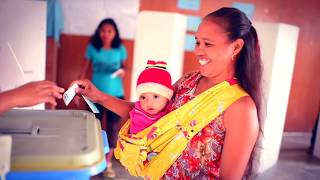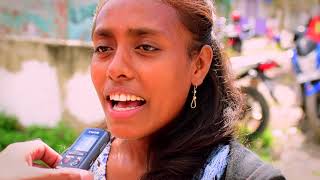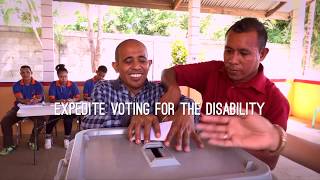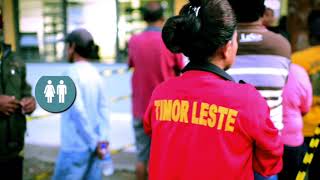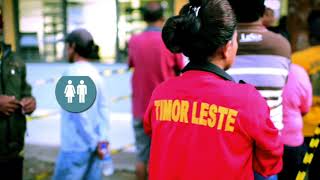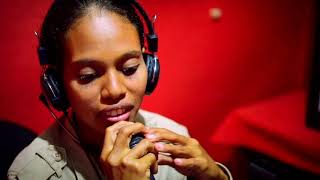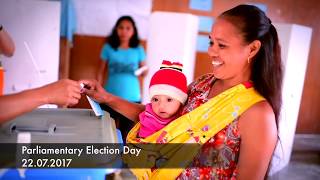 It has been more than 40 years since the first time that Juliana Tebi's hands worked a loom. Her…
The hands of the Atoni women in Oé-Cusse tell the story of an entire region that, despite having…
This weekend the people of Timor-Leste go to the polls to cast their vote for the Eighth…
A free and open press is part of the bedrock of democracy and development. Yet in the last ten…
After taking over the leadership of the Community of Portuguese Language Countries (CPLP),…
At a time when the world is beset by conflict and crisis, it is easy to forget that, day in and day…